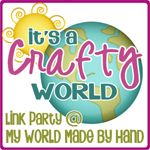 Been working on a little project and did not have it ready so I am late for a very important date.
Attendance at Kathe's meme

.
BlissfullATC

swap with Wendy for several years.
ATC

s are fun to make and even more fun to swap.
I have learned a lot and have accumulated quite a lot of cards.
A few years ago Wendy hel

d a ATC swap card Box Contest and we all made a box to hold our ATC cards.
Well as you can see mine is pretty full and in the box no one can see the great art, so I decided to come up with a way to display my cards in an artistic manner.
Swapping ideas with my painting teacher I ca

me

up with this idea.
16 x 20 can
vas painted black and sealed with clear matte sealer.
Penny sleeves are available for baseball cards and any card 2

1/2 x 3 1/2

from most craft stores.
Ne

xt I take
c

lear penny sleeves with velcro attached to the sleeve and then attached to the can

vas.
This enables me to change the ATC cards to be able to display all my cards at one time or another.
I will change them out maybe monthly or as I receive them. We now send and receive 3 ATC cards each mo

nth.
This also enables me not to have to put anything on the card itself to detract from the piece.
I then place them in prearranged spots to make an attracti

ve display.
If you would like to know more about the BlissfullATCswap fun

please go
here
It is never too late to join

with us.
Linking up with
Kathe with an E
here
Also linking with
myworldmadebyhand
here
E

xcitingly waiting for Spring